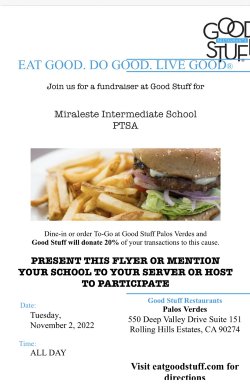 What

PTSA Restaurant Fundraiser - Good Stuff

When

11/2/2022

Where

550 Deep Valley Drive, Unit 151 Rolling Hills Estates, CA 90274
A percentage of the proceeds from any meal purchased ALL DAY on Wednesday, November 2nd will go right back to the MIS PTSA!

The PTSA uses 100% of these proceeds to fund classroom needs, events such as the Reflections Contest, upcoming field trips and a lot more!. So, show your support by presenting this flier or letting your server know that your order supports MIS PTSA.

In restaurant AND pick up orders qualify!